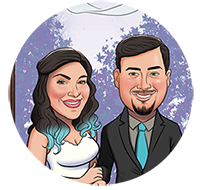 "I received a flyer for Adam's work in the mail, and I'm so thankful I did! My wedding was last minute but Adam was able to come and provide hours of amazing entertainment! Everyone at my wedding commented how cool it was to have a caricature artist, something none of them had seen at a wedding. It was totally my style and Adam works quick getting through tons of people, I even chose color and she still busted them out. It's such a perfect memory of our wedding with our names and date on every sheet! Everyone from the wedding was posting theirs online and getting them framed, I couldn't have asked for a better gift! My nephew was probably his star of the night, coming home with 4 himself! He can do a nice picture of what you are wearing or spruce it up any way you like. I couldn't have asked for a better way to capture the evening and help everyone else remember it just that much more perfectly! Thank you so much to Adam, he went above and beyond! I'm keeping him in mind for parties in the future!!"
"My experience was AMAZING! I could not have asked for a better gift for the bride and groom as well as the experience for the guests at the wedding. The quality of work was EXCELLENT and his personality and professionalism was spectacular."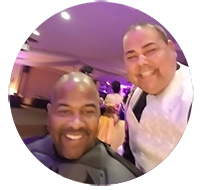 "Don't look any further...Adam is your man! Seriously thrilled with the work he did at my wedding. All your guests will love him; as he is extremely personable and his work speaks for himself. Adam also wore a costume (Halloween wedding) for the evening taking full participation in our celebration. Hire him...you'll regret going with the other guy!!!"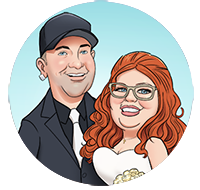 "Adam, I absolutely love this! Probably more than any actual photos from the photographer. Seriously, it is so amazing!"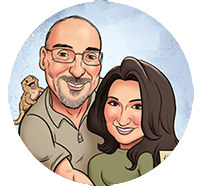 "We got it, and we LOVE it, THANK YOU!!!"
BUSINESS CARICATURE REVIEWS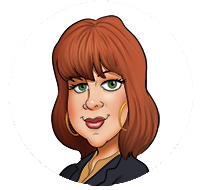 "I have 10 banners and the one with the caricature gets tons more engagement." "The caricature gives my brand so much more personality. Launching Jo on the Go wouldn't be the same without it."
- Joanna Ressmeisl, Go On The Go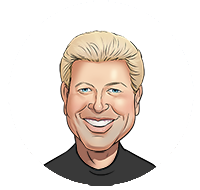 "Adam is a skilled artist who specializes in caricatures. I sent him a photo and he crafted a caricature that viewers identify as "me". I insert the caricature in Powerpoint slides for classes I instruct. The students always chuckle when they see it. Adam did such a terrific job that I commissioned him to do several more caricatures in different poses. They are a huge hit! It is money well-spent that adds a fresh dimension to my presentations."
- Jim Dudleston, Professor